Window dressing
June 12th, 2010 | by: Scott |

View Comments
Today someone hung an Argentina flag from their balcony, which is plainly visible from my window. I consider this unacceptable behaviour. I also consider it a direct response to my Germany flag, which should be clearly visible from the Argentinian's window. This is just the sort of thing for which I need an enormous Germany flag. I imagine it would have gone something like this:
I hang my standard-sized Germany flag.
The Argentinian waits to first make sure Maradona's Motley Crew aren't going to crash out in the first round, then, surrounded by eight others, hangs his Argentina flag.
I respond by unfurling an enormous Germany flag, visible from space (if you're coming in from space on a gradual descent.)
He looks out his window and mutters "That bastard."
I win!
But no. I have no enormous flag with which to trump the Argentinian. There is very little I can do now but point out that his flag looks like it was put up by a child. Look at it.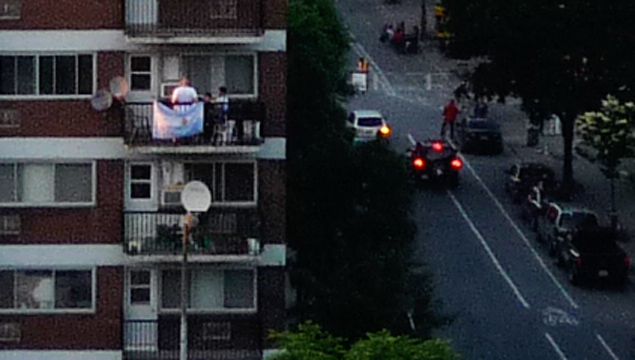 It sags and whimpers.
It is a disgrace.
My flag- the Germany flag- is as taut as a middle-school teacher's nerves. It's as though I used a level to place it just so. It's anchored in place by carefully measured cords that span equally in four directions. If necessary, it could remain in place for a thousand years. This is the German way to hang a flag. It is the right way.
"Carlos Tévez has a face that looks like a sculpture carved from a glazed ham with buck-shot." This is the observation I make to Ed, who is both a fanatical Argentina supporter and a Korean. Ed tells me a story about Carlos Tévez being in an accident as a child that involved scalding water. I had no idea, and for a moment feel rather bad for having tweeted the observation hours earlier.
I say to Ed, "Maybe I won't include that in my blog post." He is stunned I had even considered doing so, even though he had initially called me today to tell me how much he enjoyed the World Cup piece I wrote for a local weekly that, even to me, seemed so offensive that I insisted it be published under a pseudonym.
Ed has a sister who was born in Buenos Aires and, as a child, he would watch Argentina matches with his father. For these reasons, he stands firmly with the side he calls "my Argies" and, in 2006, chose to avoid me when Germany faced Argentina in quarter-finals.
"I'm afraid if Argentina score I won't be able to react the way I want to," Ed said.
On Thursday, Ed the Korean will watch Argentina play South Korea. He says he will cheer with utmost sincerity every single goal, regardless of which country makes it. That is how a person goes mad.
Another observation from today's match. There are people in South Africa who are clearly Argentina supporters, but who are wearing terrible masks modelled after members of the Argentina squad. I easily recognize a Maradona homage, sans the facial hair he has since grown to complete his buffoonish character. There are others, too, all hideous and mis-shapen. I don't know if the supporters think they're showing admiration by putting on these awful things, but they come across to me as a huge insult. If someone donned such a mask made to resemble me, I would likely follow him in to the washroom at half-time and garrotte him.
In just over 15 hours from the time I'm writing this sentence, a man will blow a whistle on the other side of the globe and Germany will play Australia in the 2010 FIFA World Cup. Angela Merkel has predicted a 2-0 win for our side. That would be the German way to begin a World Cup campaign. It would be the right way.
_______________________________________________________________________________
Subscribe

Germany World Cup Blog RSS Feed

Share
blog comments powered by Disqus