Thank You Finland
October 14th, 2009 | by: Nick |

View Comments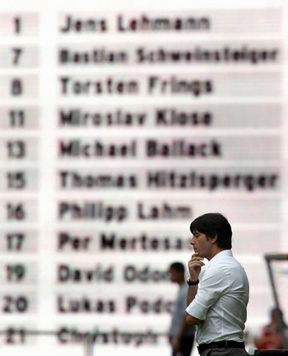 The crowd was right to jeer a hapless first-half performance by an "experimental" German side in Hamburg in the final DFB 2010 World Cup qualification fixture. With a ninth win the 2010 qualification campaign would have been Germany's most successful ever. Thanks to a determined Finnish side and some horrible performances by a team arranged in a hopelessly incoherent Euro 2008 style 4-2-2-2 the game ended 1-1. It was a fair reflection of the match even though Germany had several chances to win it in the dying minutes.
Adler was the only reason we did not lose. He could do nothing about the goal where Westermann watched and Lahm was simply too short to make a difference.
Beck had perhaps the most promising performance of the entire team. He was still surging forward at the end. He provided some great runs, a hard shot, and some deep crosses. He was caught out a couple of times, but his high work-rate throughout the match was commendable.
Friedrich did all right for this match. He made no glaring errors, played a very intelligent offside trap, and got out of some very dangerous situations. He should not have been playing so close to Adler, but that is more of a failure from the midfield that he could not compensate for. Overall he is still useful only in the substitute central defender capacity.
Westermann played like usual. He was caught rooted to the ground and nowhere near a Finland player for the goal. If he starts during the World Cup then he will cost us. His redeeming quality was that he was good going forward and some credit has to be given to him for the goal. The verdict is he should not be playing central defense!
Lahm was the most likely player to score a goal it seemed. During the first half he was essentially turned into a left-midfielder. He tried his best to cut in and break through the Finnish defense, but every time he passed the ball one of Hitzlsperger, Trochowski, or Cacau managed to lose it.
Trochowski was a twelfth man for Finland in the first half. He lost about every ball played to him. After he shifted to the right wing in the second half he was far more reliable, but nothing inspiring. He wasted his chance to shine at home in Hamburg.
Hitzlsperger should never be called again. Not only was he ineffective in his passing and retention, but also he might as well have not been there defensively. His performance is absolutely inexcusable as a defensive midfielder and even his pal Löw had to yank him off at half-time
Gentner didn't really shine. He had a goal-shy performance probably because he didn't want to be booed. Defensively he was better than the other midfielders, but that's not saying much.
Ballack was not meant to be played in his old role or the entire match. He was stretched thin by his teammates. To compensate for the lack of Özil he had to go forward, create, and distribute in addition to defend the back four with the invisible Hitzlsperger.
Özil had an average game by his own standards. He lost the ball several times and wasted a few clear cut opportunities. He needs to work on his finishing. Still, without him the tying goal would not have happened. He is here to stay and will start guaranteed from now on along with Ballack.
Podolski at least saved us from a loss. His goal was fortunate and he had blown a few shots earlier. He was by no means spectacular in the unbalanced 4-4-2, so average that Lahm was often found in front of him during the game.
Klose missed the chance to one win it after a cross from Beck. His awareness and quick reaction was critical in creating the goal chance.
Cacau was ineffective and to be honest I am not sure what position he played. He was roaming around the length of the pitch putting in a mediocre touch here and a mediocre pass there. Maybe he would have played better with coordination around him, but on this showing he should not be called up again seeing as how there are much better striking options available.
Gomez is now in crisis. He had a few chances from set pieces, but his psychosis began to tell. Once again Klose showed him how it is done. Gomez is a target man who can't finish, he does not have the ability to provide chances and his depression after spurning a chance ruins whatever rebound or subsequent chance he has. He needs to work out his problems, but not on the time of the national team.
Löw should be sent to Turkey for free after this display. The lineup was wrong and he was too scared to compensate once again. He could have given Marin some running time, but instead he selected his old favorites with disastrous effect. To be fair there was no way he could correct his faulty starting eleven. In order to prevent aggravating an injury Ballack had to come off in favor of Gentner. To save some face Özil and Klose had to be put on thus leaving Marin on the bench. I honestly wanted us to lose, because that way even he cannot forget the burn of picking his useless Stuttgart pal Hitzlsperger.
Subscribe

Germany World Cup Blog RSS Feed

Share
blog comments powered by Disqus