Lahm Kapitän, Neuer Keeper, Träsch OUT! (Update 3)
May 24th, 2010 | by: Nick |

View Comments
The DFB team has settled in South Tyrol and Joachim Löw has reached some important decisions. After the full team assembles upon Bastian Schweinsteiger and Phillip Lahm arrival with the rest of the Bayern team, the captaincy and the goalkeeper decision will be announced to the team and then the public. Both Schweini and Lahm are favorites over Miroslav Klose for the captaincy. Meanwhile Jens Lehmann, aside from promoting his book, has thrown his support behind Manuel Neuer, the clear favorite over Tim Wiese and Hans-Jörg Butt as the Germany Number 1 – some may argue though that Crazy Jen's support counts as a negative. What Jogi has already let on though is that all his candidates are giving 100% and that (surprise !) he really likes Serdar Tasci.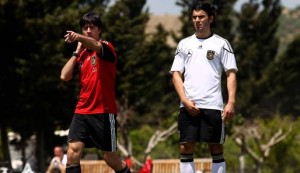 In other news Marcell Jansen is back in full training. Unfortunately in a test match against Italian third league side FC Südtirol, Christian Träsch injured himself and had to be substituted. This leaves Germany with only Sami Khedira and two utility defenders Heiko Westermann and Jerome Boateng as starters for defensive midfield alongside Schweini. Jogi is nonetheless still resistant to nominating new players.
Piotr Trochowski, Mesut Özil, Cacau and an own goal brought the DFB team to an acceptable 4-0 victory. Maybe Mario Gomez, Thomas Missed Müller, and Miroslav Klose could have made the score a little bit more respectable.
1. 30 Minutes: Wiese – Boateng, Tasci, Westermann, Aogo – Träsch, Kroos, Marin, Jansen, Özil – Kießling
2. 30 Minutes: Neuer – Beck, Mertesacker, Friedrich, Aogo – Trochowski, Kroos, Khedira, Podolski, Özil – Cacau

So the questions remain…
Who should be captain?
Who should be first choice in goal?
Which two players should be dropped?
Should Löw nominate others for injured players?
Does Germany have a goal scoring problem up front?

UPDATE 1:
Christian Träsch is according to the DFB officially likely out of the World Cup after a self-sustained foot-injury. Germany now have only Sami Khedira and Bastian Schweinsteiger in defensive midfield.
Given the situation Mats Hummels… ahem a new candidate must be considered before he loses any more time. The pecking order is probably in reality Hitz > Gentner > Hummels > Any German > Frings.
UPDATE 2:
With Christian Träsch out Jogi has decided that there will still be no new callups. During a press conference a journalist asked Flick if they have a Plan B. Flick hesitated and said of course. Well let's hope so because it looks like they are being inflexible more than anything else. Anyway for everyone counting on a Mats Hummels return one of the central defenders has to be injured first. Maybe precious Tasci and Westermann collide due to lack of orientation?
UPDATE 3:
According to various media sources (BILD and the Hamburger Morgenpost),
Phillip Lahm has been selected as captain and Manuel Neuer is number one keeper in SA. Jogi will probably wait for later today to announce it officially or before the friendly game versus Hungary. More on that when information becomes available. ESPN3 has promised to show it in the US. (Best viewed on mute of course unless they simulcast it in Spanish.)
We know for sure though that the team hammered Cape Verde… ahem the local youth team 24-0. Scorers were Piotr Trochowski (3), Cacau (2), Stefan Kießling !! (2), Andreas Beck (2), Toni Kroos (2), Arne Friedrich (1), Sami Khedira (1) and Lukas Podolski (1). 20 players were used in the span of the 60 minute game.
Meanwhile all the Bayern players have arrived at camp and are working hard to get back into it after their successful season or in the case of Thomas Müller on his aim not falling off his mountain bike.
Subscribe

Germany World Cup Blog RSS Feed

Share
blog comments powered by Disqus