10 Conclusions: Germany 0-1 Argentina
March 3rd, 2010 | by: Jan |

View Comments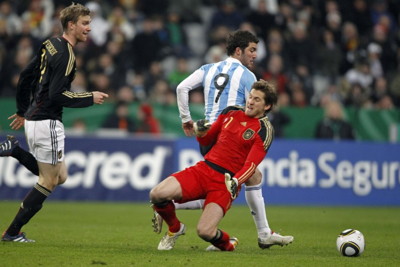 1. It felt like Argentina won at least 70-80% of all one-on-one situations. Germany did well to recover a lot of second balls though, which meant the center of the action remained firmly in midfield with very little else happening on both ends. After taking the lead, Argentina managed to step by step gain a territorial advantage, as Germany's offense was kept in check and the midfield pushed forward a bit more, which did nothing more than allow Argentina more space in Germany's half. While not creating a lot of chances either, Argentina's patient forechecking for the whole 90 minutes was quite impressive and especially the defensive/defensive midfield comprehensively outmuscled Germany, resulting in a deserved victory.
2. The Schweinsteiger/Ballack midfield pairing was the biggest "innovation" in Löw's lineup and so I was really looking forward to see it in action. The result after 90 minutes – or rather 76 minutes – was inconclusive. Ballack was quite anonymous throughout the game, which is either because he is not in top form and had a bad game, or because he focused more on defensive duties, with the more attack minded Schweinsteiger next to him. Schweinsteiger was quite active and appeared to be motivated to prove that this is indeed his new home in the national team. Michael Ballack's post match reaction was cautious though, hinting at the fact that it might not be his preferred midfield solution. Ballack is certainly no van Bommel, and maybe you either let Ballack keep his more central attack minded role or you need to scrap the experiment again, until you have the right partner for Schweinsteiger.
3. One problem is, that Germany played the whole World Cup qualifiers with a dead team. There was little life and spirit in it, no new impulses and until Özil debuted no fresh faces that could lift the team as a whole. Now, there is simply not a lot of time and only a few games left, to revive and rejuvenate the team – or extensively test line-up changes like the one above. I don't blame Löw too much in the sense that some young players only recently hit their top form, so it's difficult to criticize him for not selecting them right after the Euros already. I do blame him for the poor overall state of the national team, as his odd selection criteria and man management contributed a lot to the demise in my opinion.
4. Rene Adler's fingertips deflected a ball onto the crossbar and his overeagerness made him run out of his box and gift Higuain the goal. He might have conceded in a one on one as well. But as the old football adage goes, when you decide to leave your goal you should be sure to get the ball and don't gamble on a 50:50. A goalkick straight to Veron could have ended in further embarrassment for him.
5. Per Mertesacker is slow. No news there, so when he's caught out of position – or rather defending high up the field, there is not much you can do except pray. Tasci combined good defense with the occasional neglect for all Argentinian players around him and risky opening passes. The two combined made for a solid center back pairing still. With the alternatives apparently being Westermann and Friedrich, it might even be the best we can expect this World Cup.

6. Boateng handled everything that came his way, which would earn him my vote for best defensive player that night – even if that'll drive our reader Tomas mad, who saw a completely different performance. The slower pace of the game made it easy for Boateng though. It wasn't a conclusive answer as to whether he is the short term solution to Germany's full back problems. In the long term I would still prefer to see him in the center. Philipp Lahm produced a rare chance for the German team with his attempt at goal in the 22nd minute, and the similarities to his goal against Costa Rica was the only World Cup flair that the team would produce all night long. Lahm was unsurprisingly the much more industrious full back and tried to connect with the offense but, except for that one chance, was very ineffective. A solid performance defensively at most from him as well. He can do better than that.
7. Lukas Podolski is wasted in midfield/as a winger. He worked more in defense this time around actually, but in a slow and compact game his pace and agility were nullified, and even in more open games he still remains much more effective and dangerous up front. Thomas Müller enjoyed his debut in the team, looked promising in the first ten minutes, but then drowned in Argentina's defense as well. Marcell Jansen would be a good alternative to Podolski in such a setup, but unfortunately he was down with a fever/flu(?) – so we won't know how he would have handled this match.
8. Özil might be able to hint at his class whenever he touches the ball, thanks to the grace of his movement and his passing. That doesn't change the fact for me, that he was a non-entity in this game. I would have liked to see him play on the left, instead of Podolski. Kroos couldn't make much of a difference when he came on either. No eye-rubbing by Argentina unfortunately.
9. Klose is a good support striker, who usually excels when he has someone to play with, but he is a sad figure as a lone wolf. This time he could just play hide and seek between Argentina's central defense. Gomez in theory might be a better fit in a one striker setup, but the reality of his national team career is quite bleak at the moment. He needs a fresh start and at some point deserves a fresh start, but probably not at the World Cup – in the starting line-up that is. I would still call him up.
10. I feel like a broken record, but neither do I like Germany haplessly employing one striker tactics, nor do I like seeing players playing out of position or positions, where they aren't at their best, just so you could play with one striker in the first place. Then again, time is running out and switching back to a new tactical lineup might now be equally risky, but I also don't know how you could improve/fix the current one. Any ideas?
Bonus rant by Nick: "Tasci was utterly horrible followed closely by our new CB Schweini! Our best player was Cacau followed by a distant Oezil. So without those two and our DM Klose we had to try the old Lahm up the left channel trick. Too bad Loew did not have the sense to sub on Marin or move Boateng to the center where he can actually be effective! Kroos/Khedira did not have enough time, whereas Poldi/Mueller had too much. Gomez was useless as usual, Mertesacker slow, and Ballack tried his best to take out as many Argies as possible. Am I missing someone? It's Sammer time!"
Subscribe

Germany World Cup Blog RSS Feed

Share
blog comments powered by Disqus